Dr. Amy Wagenfeld: Nurture through Nature: Talking About Nature
8 August 2021
This past week I had the honor of guest lecturing in SAR OT610, Health Promotion and Wellness, a class in Boston University's Post Professional Occupational Therapy Doctoral Program. The course instructors, Drs. Nancy Doyle and Jennifer Phillips invited me to talk about, yes, nature and health! The title of the presentation was Creating Responsive Therapeutic Nature Places to Improve Health and Wellbeing.
First off was to discuss the 'results' of our one question survey, "What is your favorite type of nature?" that was proposed to all students and Drs. Doyle and Phillips. Slightly over 50% of the class (52%) indicated that water of some kind is their favorite nature. This is consistent with research that finds water is a favored nature element (White et al. 2010). Trees was the next most favored, followed by mountains, and then features such as plants, butterflies, rainbows, deserts, and birds. What is your favorite nature? I am hard pressed to select one. I often think that my favorite nature is whatever I am in or experiencing at that particular moment.
I framed the talk with a discussion of the WHO definition of health, "A state of complete physical, mental and social well-being and not merely the absence of disease or infirmity" (WHO, 2006). From there I expanded into talking about healing, therapeutic (designed for a specific population, informed by research, with a specific intended outcome, and rehabilitation (designed with therapists for a specific population and/or therapeutic modality) gardens and some theories that align with nature and health, many of which we have already talked about.
Next, I asked the students and instructors to think of a favorite garden that they have been to, no matter where it is. Attribute by attribute that are understood to be qualities associated with therapeutic gardens, and are listed below, I asked the students to identify if and how each of the attributes applies to their favorite garden. At the end of this reflection, we talked about whether these special gardens would in fact be considered therapeutic.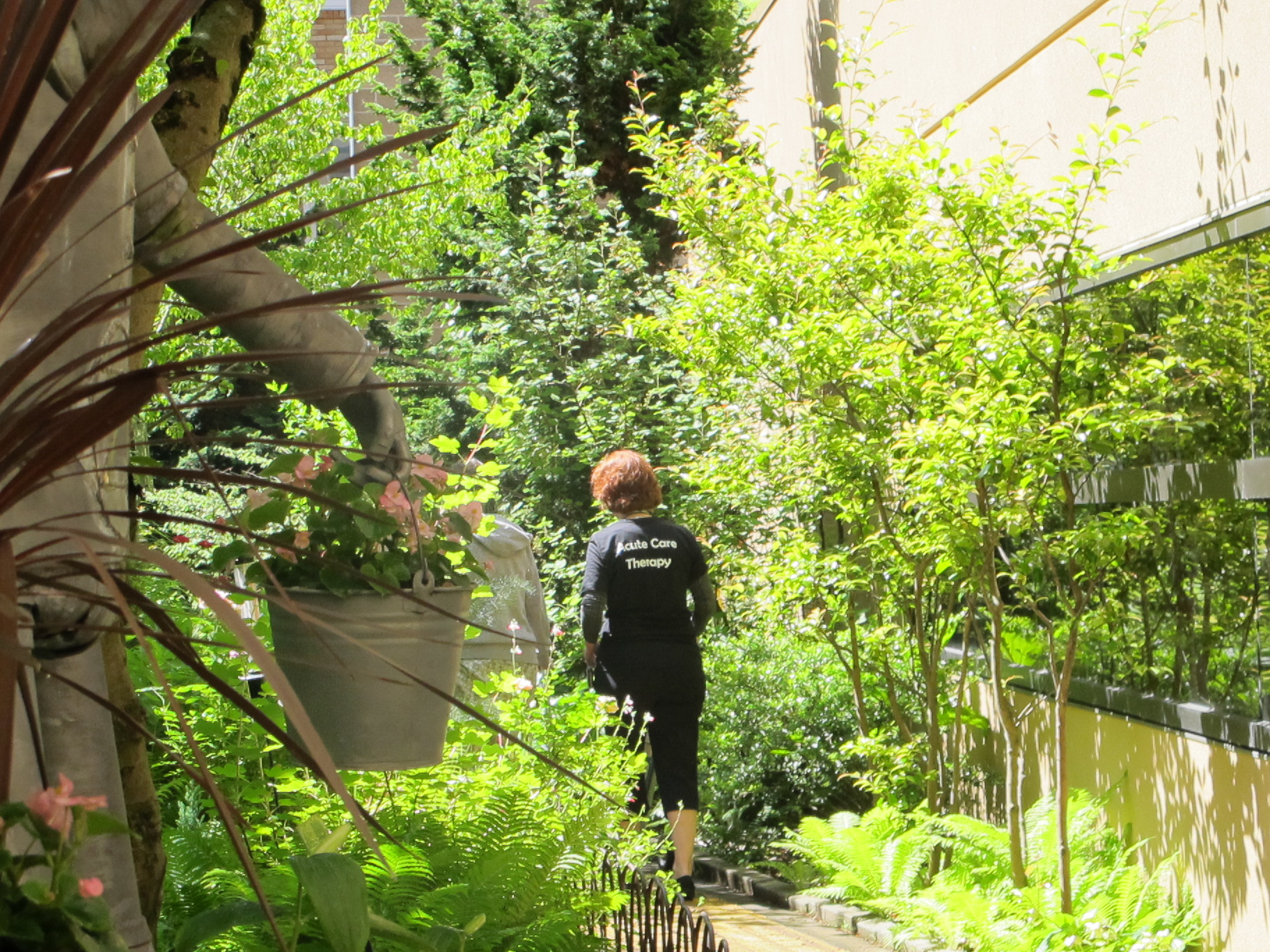 Before I get to the list, I invite you to think of your favorite garden and go through this same exercise. Is it therapeutic? And now for the list.
Appeal
Calming
Choice
Community nurturing
Cultural sensitivity
Fascination and inspiration
High ratio of green to built surfaces (ideally 70% green to 30% built elements such as benches, planters, etc.)
Hope
Innovation
Intention
Interest
Memorialization
Privacy and protection
Profusion of plants and people-plant interactions
Safety
Sensory nurturing
Social sustainability
Supportive conditions
Understandable
 Wayfinding
I hope that Drs. Doyle and Phillips and the amazing students enjoyed this one-hour foray into nature reflection as much as I did!
References
White, M., Smith, A., Humphreyes, K., Pahl, S., Snelling, D., & Depledge, M. (2010). Blue space: The importance of water for preference, affect, and restorativeness ratings of natural and built scenes. Journal of Environmental Psychology, 30(4), 482-493. https://doi.org/10.1016/j.jenvp.2010.04.004
World Health Organization. (2006). Constitution of the World Health Organization. BasicDocuments, Forty -fifth edition, Supplement. Retrieved from: https://www.who.int/governance/eb/who_constitution_en.pdf