Dr. Amy Wagenfeld: Nurture through Nature: Going to Nature
13 November 2020
A special treat awaits you over a series of several blog posts, as I invited family and friends to tell us about their outdoor place connections. These connections with nature are powerful, bring forth feeling of happiness and joy, and for many are the 'go to' place where, simply conjuring up thoughts about them is restorative, calming, and meaningful. As you will read, near and far destinations such as backyards are meaningful as are home gardens, views, water, sunsets, trees, and, for Chelsea, "something that always brings her "joy in nature is wildflowers- especially tiny ones like chamomile, buttercups, or black eyed Susan's. I have always found joy in finding these flowers and making tiny bouquets - it amazes me to find such teeny bits of beauty among giant mountains, waterfalls, or rock formations. I like to remember that beauty is everywhere in nature (and in the world) no matter how big or small."
There is, for many people, deep comfort derived from their yards. Holly said this of her hers, "my favorite nature spot is my very own yard - how lucky am I! Planting seeds, maintaining through weeding and watering, and watching my flowers and veggies flourish brings me happiness like no other. Also, I love how my dogs express the same comfort and joy when we spend time in our yard together."    
Ellen sits on her patio and is immediately drawn to the trees. She "looks from left to right and sees the half-circle of trees. The tall and sturdy pine, that has grown so tall and wide in the years we've lived here. The tree in the neighbor's backyard, that is symmetrical in the branches and leaves. It is tall, and rounded, and soft. The sycamore in my yard, with lower branches that stick out at odd angles and provide more shade with each year. I look up, see its height, and am drawn to the cluster of pines in the next yard, here far longer than the houses were built. I feel the energy emanating from this semi-circle of trees, calming, healing, and looking over me."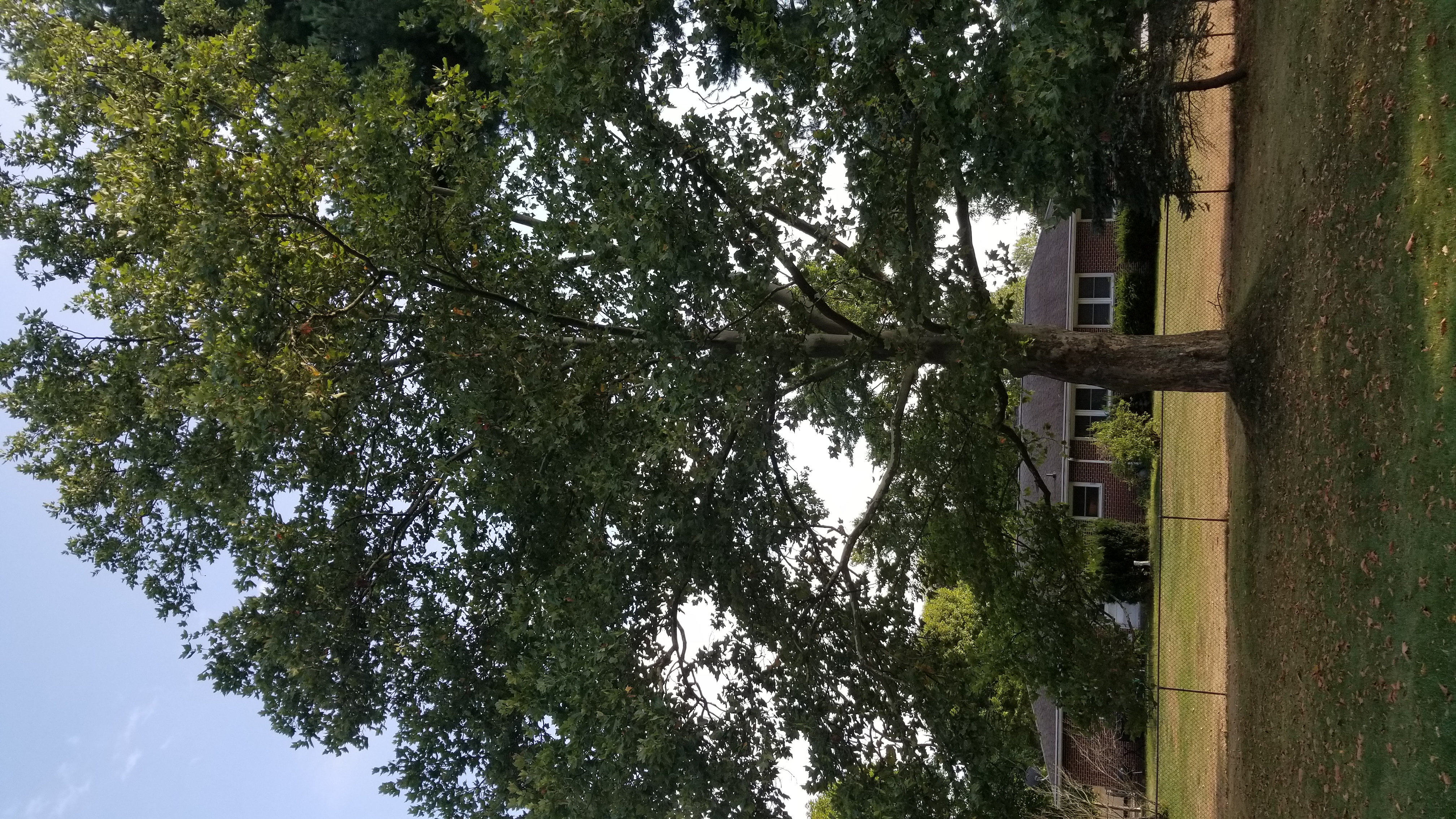 Ben's sanctuary in nature is his "screened-in front porch where he enjoys sipping his morning coffee listening to the peaceful gurgling of a water fountain, the melody of multiple bird song, and the view of my flower garden. So grateful," he shares.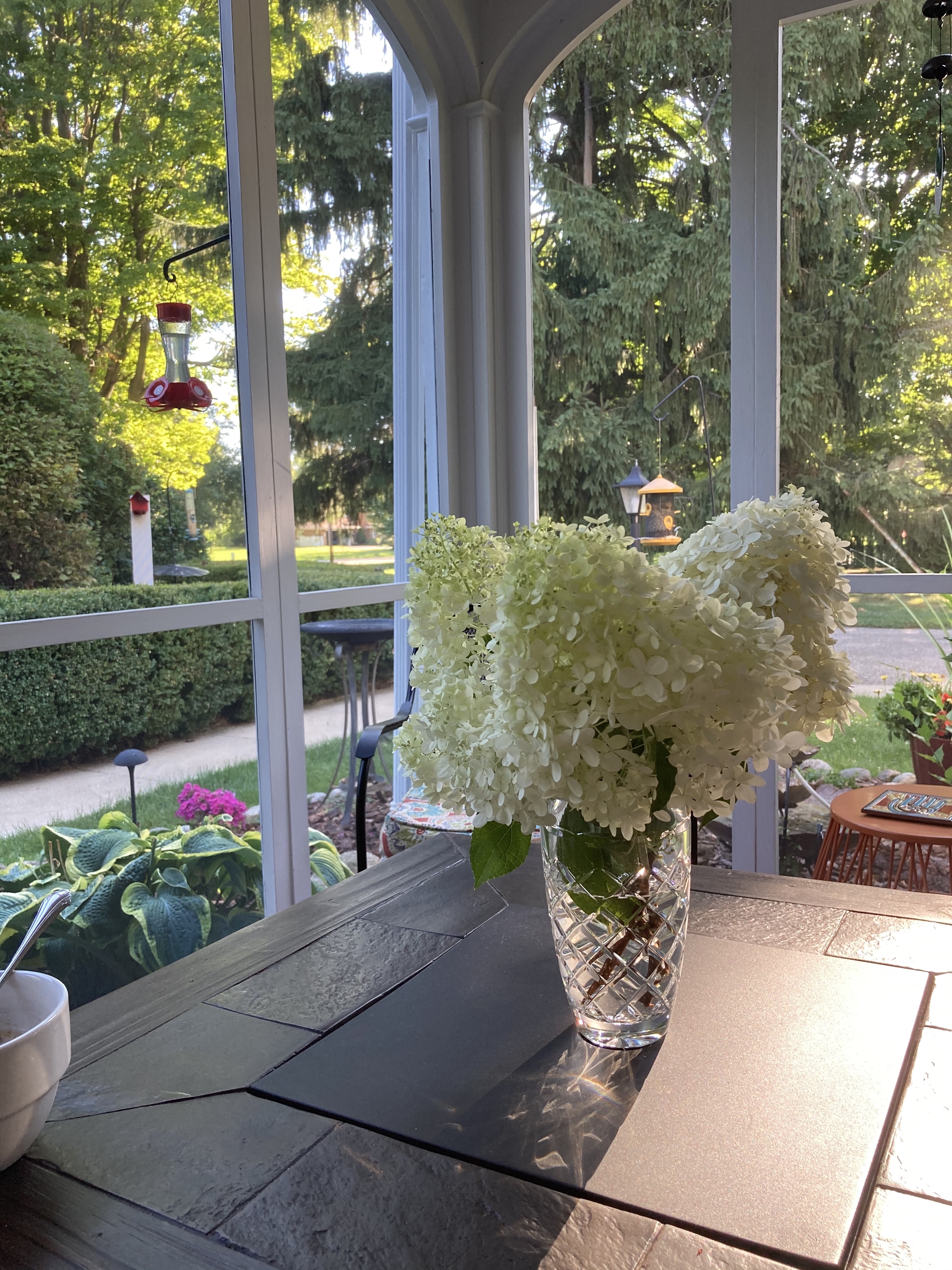 Several folks talked about connections with their home gardens, an integral part of their yards. Tracy reminds us that "Finding little things in my garden" is meaningful.
Nancy feels most connected to nature in her weed bed.  She explains, "I call it my weed bed because most times it has more weeds than flowers.  Covid -19 and stay at home orders has helped me to get rid of a few more weeds this year.  I love being in nature in many ways (walking, biking, kayaking, paddle boarding, sailing).  However, the weed bed is all mine.  It is a mess, but it is my mess.  I can go out there and get instant reward from cleaning up a small section.  I get excited when something blooms.  No one bothers me out there, because no one wants to pull weeds.  It is peaceful.  My thinking spot.  Sometimes my crying spot.  No one tells me how things should be done.  It is unorganized, sometimes wilting from not enough water, sometimes bursting with new color."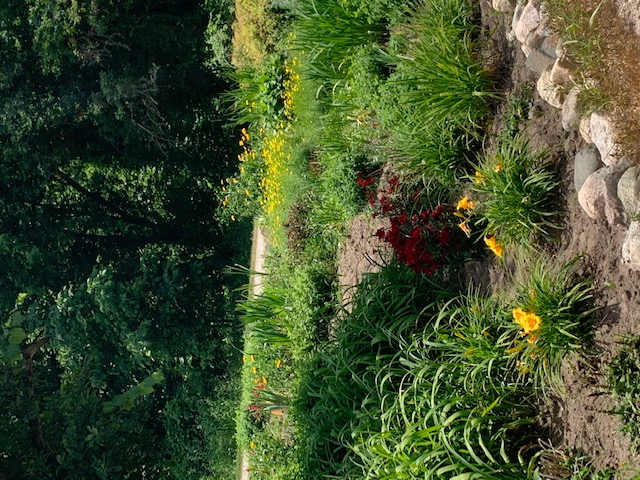 Elizabeth shared this beautiful recollection of her family homestead. "In 1978, my dad moved our family from the bare sagebrush slopes of Pocatello, Idaho to the lush rolling hills of southeastern Minnesota where he accepted a teaching job at St. Olaf College. Our new home was a disappointing dilapidated farmhouse. And a 20-acre property devastated by overgrazing, harmful farming practices, and neglect. Over the next thirty years, my dad, a political philosopher and follower of Aldo Leopold, restored the house and the landscape to native prairie with the help of my ecologist brother. When my dad fell ill with cancer a few years back, this same brother offered to purchase the farm, a decision enthusiastically supported by my other brothers and me. Still a working farm, this now 100-acreage plus hosts a rare native prairie bush clover and other sensitive native plant species and wildlife. In the throes of the global COVID-19 pandemic and unprecedented political upheaval, I ventured "home" to the farm on a pilgrimage.  As I walk these hills covered in black-eyed Susan's, bright orange butterfly weed, and big bluestem grasses, I remember my childhood as a shy loner. Then I wandered these hills to escape from the anxieties of childhood and the spaces of being "different."  In this time of pandemic and tremendous social and political upheaval, the farm once again offers comfort. A space of respite where simple comforts provide a balm: the chirp of crickets, the drone of cicadas, the cool breezes, the torpid heat, the sway of sweet corn, the screech of swallows, the flap of bats, and the dark skies and bright constellations. Even the violent storms with whipping winds, pounding hail, driving rain, crackling white lightning and sonorous heart-stopping thunder still provide a sense of being "home."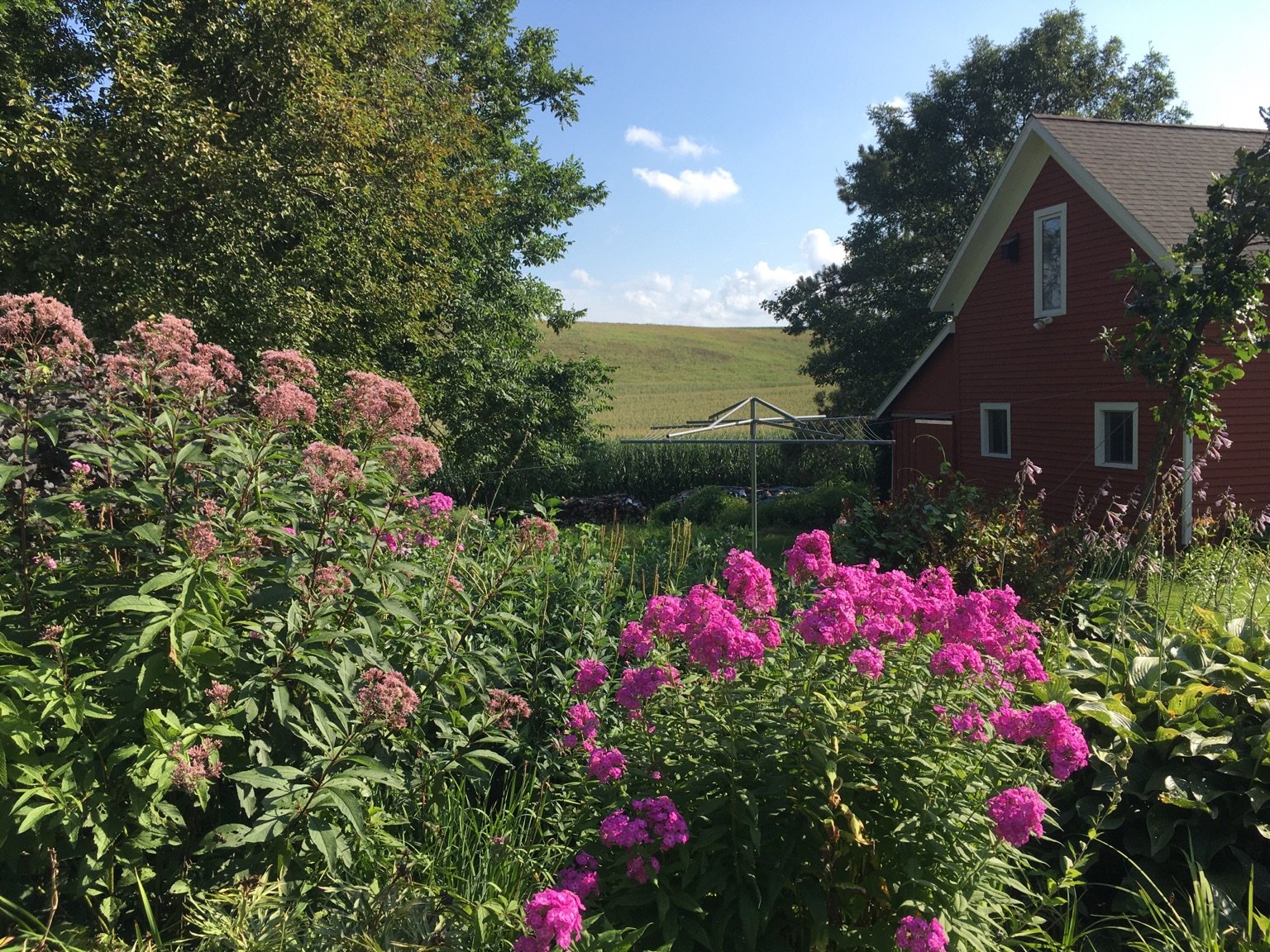 To all who shared their personal place connections and images of them, thank you so much for doing so. Please note that the images are the property of each contributor and may not be reproduced without permission. For my readers, please take a few moments to share your place attachments! Until next time…